Author: Amalie Widerberg
Vidar Ruud is currently a photographer at NTB – Norway's largest agency for production of media photography – and has been working with FotoStation since the early 90's. As a passionate photographer, he has been using the program for both personal and professional purposes. We recently met up with him to talk about his journey with FotoStation.
The beginning of the journey
Back in the early 90's, Vidar worked at a company called A-pressen (now Amedia), which is the second largest media group in Norway company. Here, he was introduced to FotoStation at a very early stage of its development, and recalls the transition as a 'drastic change':
"We worked with film and sent pictures back one by one when we were out working. So then when FotoStation came, and we could upload [batches of] files into a program at once, we were able to see what we had much easier. We still had to scan pictures, but I remember it as a relief, instead of bringing a big machine for sending you could send from a computer, you just clicked on a picture and it was sent."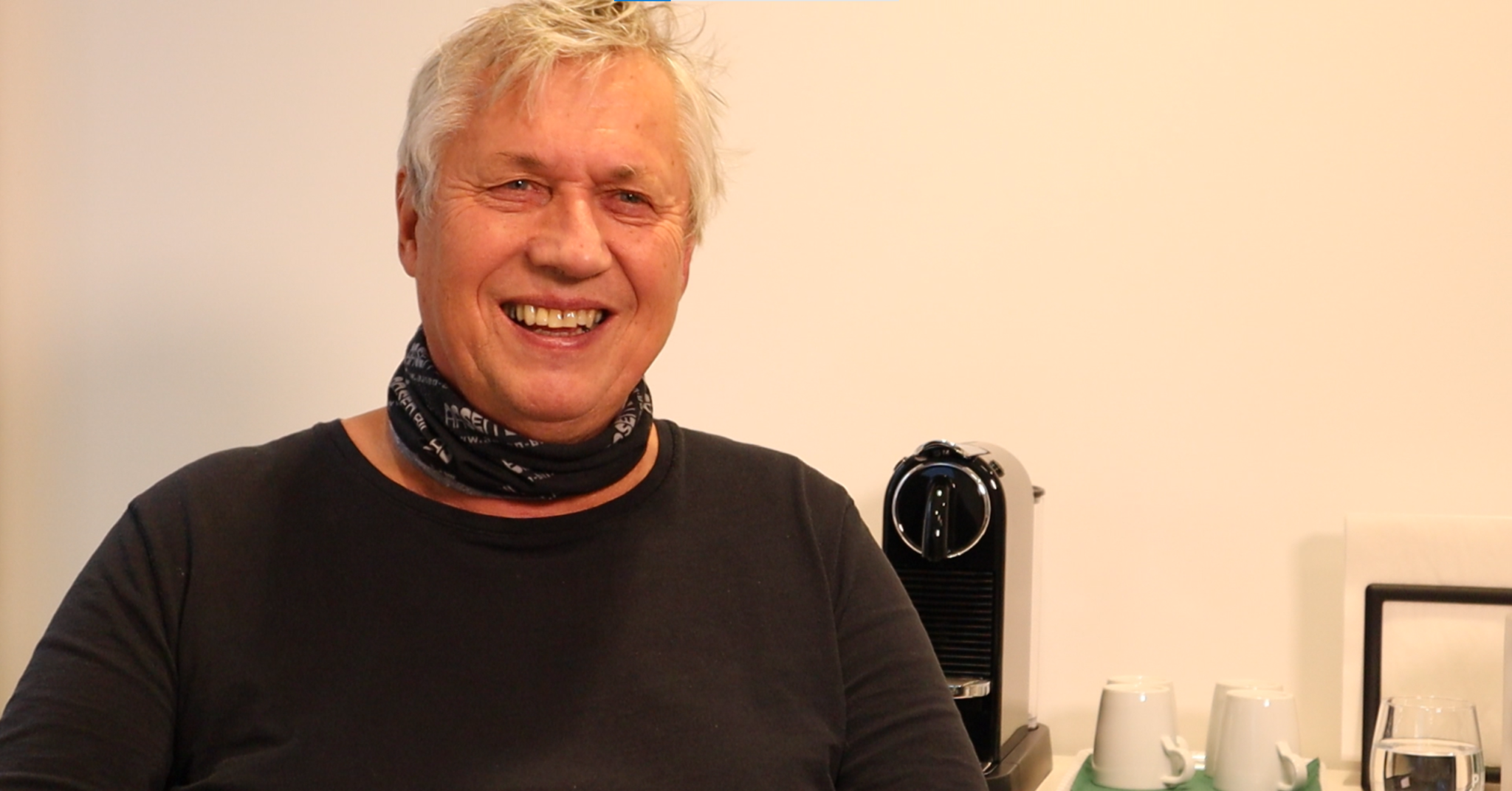 Vidar Ruud
Of course, we rarely have any troubles with uploading and sending an image today. However, it was a cause of frustration for photo-journalists working in the 90's. In 1994, when the winter Olympics were hosted by Norway, Vidar recalls how FotoStation enabled them to send multiple pictures to several newspapers all from the same platform:
"We were able to save a lot of time, which we could use to take more photographs instead. Of course, at this time we had to scan all our photos before using them, but then we just scanned them directly into FotoStation."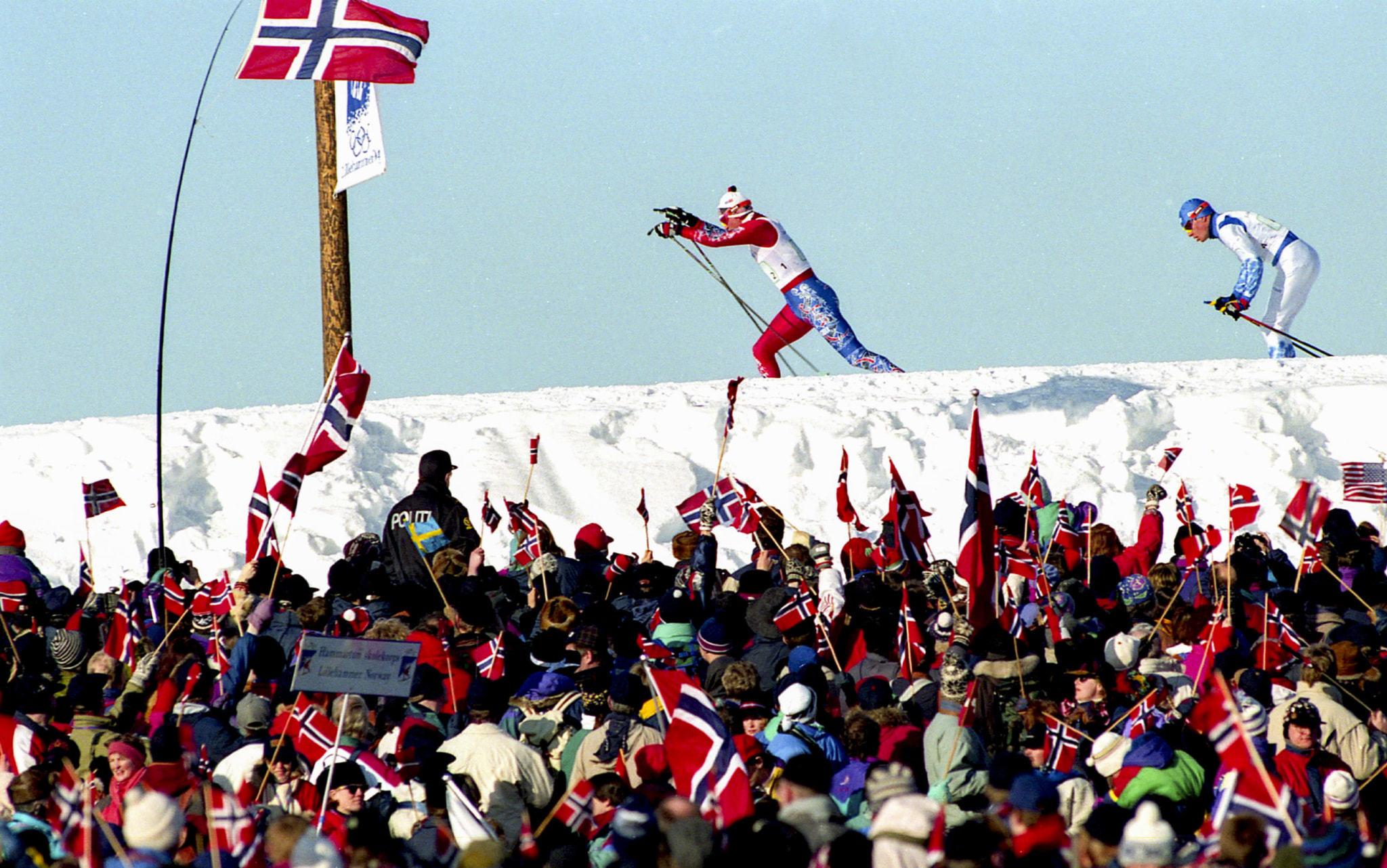 A picture from the Olympic Winter Games in Lillehammer, 1994, taken by Vidar Ruud
Gaining popularity at the Eurovision Song Contest
In 1996, Norway hosted the annual Eurovision Song Contest after winning in Ireland the year before. A team from A-pressen, together with the founder of FotoWare – Ole Christian Frenning – decided to try out something new. They set up all their equipment in a small backroom, and even got a hold of a brand new (and very expensive) Kodak camera, which was one of the first digital cameras to hit the market.
"We took lots of photos of the event, and we took photos of every single country. Journalists from all over Europe could come in and see their pictures on our screens in this digital photo-display, which many of them hadn't been able to do before. And this was such a success, that suddenly lots of people wanted FotoStation after that." Vidar explains, noting that he recently found an old magazine from the same year, that mentioned FotoStation and how it was used during Eurovision of that year.
A photography magazine from 1996 mentioning FotoStation in its humble beginnings. In the picture is Ole Christian Frenning — founder of FotoStation and FotoWare — with all the equipment necessary for the job at the time.
Using FotoStation today
A lot has changed since the 1990's, especially in the world of photography. From being an expensive and time-consuming task, only available for professionals or extremely enthusiastic amateurs, it is now made much easier with high-resolution cameras available on smart-phones, high-tech online editors, cloud storage solutions and so on. Content creators are everywhere these days, increasing the demand for suitable photography programs.
"It is important to have a photo solution, where you can keep an overview and keep track of your actions, adjust the collections and make them nicer. For these tasks, FotoStation is very nice to have, and it also enables you to [add metadata] to the photos, and to text them immediately.
This is very important, especially to distinguish the nicer photos, since they must have the text added, and that is very easy to do in FotoStation." Vidar explains, as he also tells us that he is planning on using the solution to organize his collection of personal photographs, dating all the way back to the 60's.
As a photographer who has covered a lot handball championships, Vidar knows perfectly well how difficult it can be to manage all the pictures without a proper system in place. During one match he will often take around 2,500 photos and end up with something between 20 and 50 thousand after an entire championship.
These are files that can't be thrown away, at least not immediately. Therefore, they tend to pile up, making a system for organizing them effectively crucial for the job.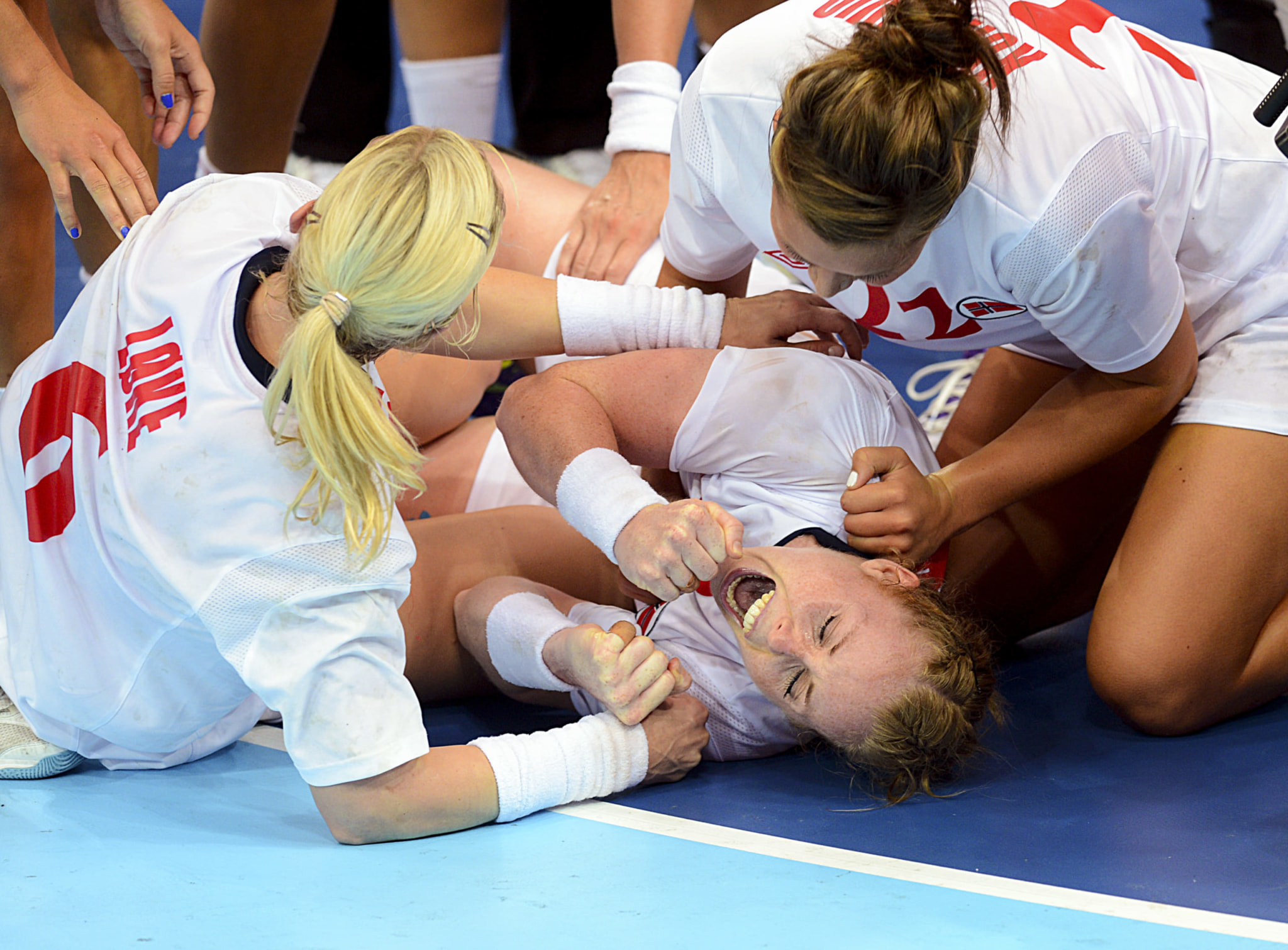 Photo taken by Vidar Ruud
Vidar explains how, in his role as a press photographer, one of the great advantages of FotoStation comes when receiving information that increases the importance of other shots, hidden somewhere in a batch of files:
For instance, during a handball championship, a player might have got an injury that was not noticed during the game. This happens sometimes, and then I will ask the doctor or the physical therapist when this happened, and later I return to my collections and am able to find pictures [of the injury taking place].
These are pictures that you might not have thought much of at the moment they were taken, and no one else really thinks about them either. I also take a lot of photos from the parliament house, where I might cover a debate. Suddenly it might be revealed that two people have discussed something with each other. […] If you have a photo of this, it will illustrate the story better than just having pictures of these two people separately.
Saving valuable time
There are many ways to save time with FotoStation, including quick edits, as Vidar explains: "A nice function in FotoStation is how you can edit pictures quite fast. You can for instance do an automatic edit of pictures if you are short of time, and that is something I miss when I'm using Photo Mechanic."However, what he finds the most useful with the program, is its ability to create and keep a good overview of large amounts of files.
He notes that he sometimes works on a project for 3-4 weeks in a row, and that he captures thousands of pictures during this time, so he needs a system like FotoStation in order to stay organized. Being able to add metadata to the pictures, and sort them into a customized folder system, is therefore crucial for people working as press photographers. Without this opportunity you would have to go through thousands of pictures every time a specific shot is needed.
Adding metadata in FotoStation
Who should consider using FotoStation?
According to Vidar, FotoStation is a program for those who takes large amounts of photos. If you only take a few photos during the holidays, you will most likely get by with just your smartphone. However, if you have a high-quality camera and take lots of photos, you must have a program to keep an overview, where you can organize, edit, and especially add metadata so you know where files are stored and what they contain. He adds:
"If you don't [have a photo-solution], you will never be able to see the pictures, it will be just like the old days when you just put all your pictures in a folder and they stay there until you die and someone comes and throws them away. So, clearly a program like FotoStation is alfa omega if you like to take pictures, which a lot of people do today.
Just think about nature photographers, who can take thousands of photos of just a bird. Looking through the tiny camera-screen doesn't help when they are going to pick out the best one, then you need a real program to make sure [the picture] is really crisp, and that it is just like you want it."
Start your free 14-day FotoStation trial today. Existing FotoStation 8.0 users can also use the code foto25 to upgrade to FotoStation PRO with a 25% discount.